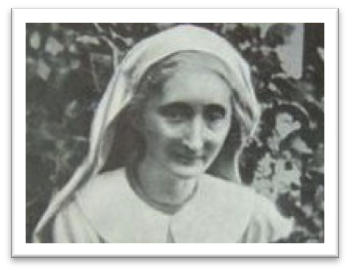 Sr. Marie-Thérèse Noblet

Unhinged or unholy?

Fiend or fraud?

That's what authorities had to decide about the Carmelite nun Marie-Thérèse Noblet (1889-1930).

She suffered sudden diseases that were as suddenly cured, chokings, night beatings, unclean visions of blasphemous scenes, violent shakes witnessed by onlookers, foul assaults from filthy beasts, including one she recalled as "full of terrible beauty with eyes full of hate."


Sr. Jeanne of the Angels
Then there's Sr. Jeanne of the Angels, the 17th-century prioress of her Ursuline convent, plagued by diabolical visits with an explicitly erotic element, which spread, epidemic-like, to the Ursuline sisters under her care, whose convulsive attacks and obscene contortions scandalized all who witnessed them.

Were these sisters possessed?

Deranged?

Or merely deceitful?

That's the first question exorcists must answer — the question addressed in True or False Possession? by the world-famous French neuropsychiatrist Jeanne Lhermitte, a man not only conversant with the tangled workings of the human mind but also a pious Catholic, convinced that demons exist and that they can — and do — afflict and even infest humans.



Genuine demonic possessions, admits Lhermitte, evade the explanations and exceed the competence of even the wisest physicians: they must not be handled in the clinic, but by the Church. At the same time, exorcisms will not help the symptoms of those who are mentally ill.

With sober clarity and reserve, he reviews the detailed clinical records of scores of cases that alarmed our forefathers as well as the cases of people he's examined personally.

By means of these cases, Lhermitte illuminates the criteria the Church holds to be decisive signs of genuine possession . . . and those other cases that assure us that the influence of the demon is sought in vain — despite the filth and fits, shrieks and slobbering.
"If you want to know the difference between true demonic possession and mental illness, then this is the book for you."
Msgr. John Cihak, S.T.D.
Pontifical Gregorian University


"This book is essential reading for anyone involved in the Church's ministry of exorcism, and for readers who want to better understand the mysterious phenomenon of demonic possession."
Dr. Aaron Kheriaty
Author of The Catholic Guide to Depression


"This book contains much to be considered both by medical experts as well as those engaged by the Church in deliverance ministry."
Abbot Eugene J. Hayes
St. Michael's Norbertine Abbey


"As a psychiatrist, Lhermitte builds on the Catholic understanding of true possession and helps to treat the always troubling mixture of illness, sinfulness, and the demonic present in such patients."
Rev. Dennis McManus
St. John the Evangelist Seminary
True or False Possession?:
How to Distinguish the Demonic from the Demented
List Price: $14.99 - 160 pages
Paperback and eBook
Order online
HERE
Save 30% when you
order the set:
Regular Price:
$29.90
Order the set
at this link
for only
$19.99
In Who is the Devil?, Nicolas Corte gives you incontrovertible proof that Satan exists, that he and his legions of devils assault you daily, and that by means of relentless attacks — overwhelming and subtle — they intend to corrupt you, damn you, and drag you into Hell along with those you love and all the rest of mankind.
With God's help — and the help of the good angels, who are truly your friends and guardians — you can repel the Devil; but to succeed, you must first come to understand Satan's devious ways and recognize his subtle paths of attack. Armed with that knowledge, which Nicolas Corte gives you here, you'll soon be able to identify temptations early and equip yourself to repel them long before they grow strong enough to overthrow you.
Soon, the Devil's trials will cease to be for you occasions of sin, becoming instead (as they did for scores of saints) providential opportunities for genuine spiritual victories. In the pages of Who is the Devil? Nicolas Corte will also show you:
Why, if you are Christian, you must believe in devils

Your own personal devil? Did you know it's not just Satan trying to bring you down?

A simple way to banish fear of the Devil . . . no matter how scarlet your sins

How far the "kingdom of Satan" extends into this world (You'll be surprised!)

Why even as we fall into sin, we remain "like unto angels"

How some angels sinned, and why — unlike our sins — theirs are unforgiveable

Witches and sorcerers: the powers they don't really have (and the dangerous ones they do!)

How, long before the Internet, the Devil assaulted St. Anthony with obscene images. The saint repelled them (and shows how we can, too)

Satanism: what it really is and how — unknowingly — even ordinary folks like us fall into it

Exorcisms and the priests who perform them: actual cases considered

The eye-opening dangers of Black Magic and Black Masses

The even greater perils involved in doubting Satan's existence

Finally: how, despite the subtlety and raw power of Satan and his minions, you can be assured of salvation
Order the set
HERE
for only $19.99
Order online above, or call
Save up to 40%
when you join Sophia's