Meet
Chiara Petrillo . . .

. . . the mother who
gave her life to save
her unborn child.



At 28 years old,
Chiara passed away,
her body ravaged by
cancer.


The emotional, physical,
and spiritual trials of this
young mother are not uncommon.


It was her joyful and
loving response to each
that led one cardinal to call
her a "saint for our times."





Chiara entrusted her
first baby to the Blessed
Virgin Mary, but felt as
though this child was not
hers to keep.


Soon, it was revealed
her daughter had life-
threatening abnormalities.


Despite near universal
pressure to abort, Chiara
gave birth to a beautiful
girl who died within
the hour.


A year later,
the death of her second
child came even more
quickly.


Yet God was preparing
their hearts for more —
more sorrow, and more grace.






While pregnant a
third time, Chiara developed
a malignant turmor, but
refused treatment that
might have saved her . . .


. . . treatment that would
have risked the life of
her unborn child.



Almost immediately
after giving birth to
Francesco, Chiara's tumor
became terminal and she
lost the use of her right eye.
Her body was tested,
and so was her soul as
she suffered through
the dark night of the soul.
She said yes to
everything God sent her
way, becoming a true
child of God.
And as her days on
earth came to an end,
Enrico looked down on his
wife and said . . .
"If she is going to be
with Someone who loves her
more than I, why should
I be upset?"


Each saint has a
special charism, a particular
face of God that is reflected
through her.


Chiara's was to be
a witness to joy in the
face of great adversity . . .


. . . the kind that makes
love overflow despite the
sorrow from loss and death.


This is her story:


Chiara Corbella Petrillo:
A Witness to Joy
by Simone Troisi and Cristiana Paccini
$18.95 — 184 pages
Order Online
HERE
Save 35%
when order the set
List price: $37.90



Your price:
$24.99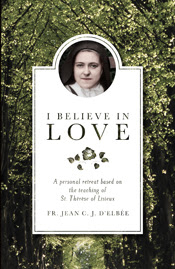 This spiritual classic has long been beloved by Catholics for its wondrous distillation of the teaching of St. Thérèse of Lisieux into a reader-friendly set of meditations. It's perfect as a personal retreat when you have only a few moments to spare each day - and for spiritual reading anytime and anywhere.

Fr. Jean C. J. d'Elbée, a French priest deeply imbued with St. Thérèse's spirit, brings you St. Thérèse's teachings on God's love and the confidence in Him that it should inspire in your soul; humility, peace, and fraternal charity; the apostolate; the Cross; and what it means truly to abandon yourself to Divine Providence.

I Believe in Love has helped countless souls embark on the way to the Father. It will help you focus on Him throughout each day, rest in Him amid your troubles, and live joyfully with Him at every moment.
Save 35%
when you order the set
HERE
Order online above, or call
1-800-888-9344
www.SophiaInstitute.com
Save up to 40%
when you join