The Sacraments:
Do you know when they're
valid and when they're not?


Marriage:
Do you know what conditions
must be met to get an annulment . . .

. . . and did you know that some
valid marriages can be dissolved?


Our Bishops:
Do you know who will choose
your next bishop and how it will be done?

*

The daily activities of the Church are governed by a manual called the Code of Canon Law.

Nearly 2,000 codes — or rules — delineate where authority lies, how conflicts are to be resolved, and how the Church's mission is to be accomplished.

But it's more than simply an employee handbook for Church officials and employees — it's an essential guidebook for you and me.

You and I have been personally commissioned by Our Lord to play an active role in the mission of the Church . . . a role that is carefully outlined in the Code of Canon Law.

But who has time to read and understand all 1,752 rules?

Thankfully, Vatican expert and veteran author Msgr. Laurence Spiteri has in these pages relieved you of the need to read all of them.
Here Msgr. Spiteri acquaints you with the fundamental canons by which the Church seeks to bring about the salvation of souls — and the role you're required to play as well!

The brief, but lucid explanations of the origins and meanings of the canons make sense of much that puzzles non-Catholics about our Church and that sometimes frustrates even us Catholics.

In fact, Msgr. Spiteri transforms what seem to be dry-as-dust rules into the sweet waters of salvation.

Among the things you'll learn in the pages of Canon Law Explained:
Why the Church is less strict about Baptism than about any other sacrament




The strict limits on the authority of priests and bishops, even within their own jurisdictions




Your rights – and your duties – as a Catholic




The many and often curious impediments to a valid marriage (including murdering your spouse to marry someone else!)




The vital role of the Vicar General (Do you know who yours is and what he does?)




USCCB, NCCB, Synods, Councils, Deaneries: what they are, what they do




What missionaries can do – and what Canon Law strictly forbids them to do – in winning souls for Christ




Ecumenism: How Canon Law requires it (but imposes strict limits on it, too)




Priestless parishes: who can do what in them




Theologians and bishops: how Canon Law deliberately promotes (a usually fruitful) tension between them




Church trials: why they are necessary, and why over 100 canons govern them.



Cardinal Justin Rigali
called Canon Law Explained "a useful guide to help you
understand and appreciate Canon Law and its relationship to your daily life."


Cardinal Raffaele Farina
said this book is "crystal clear,
concise, precise, and enlightening."

Canon Law Explained:
A Handbook for Laymen
by Msgr. Laurence J. Spiteri, JCD, Ph.D.
320 Pages — List Price: $19.95
Order online
HERE
Save 25% when you
order the set: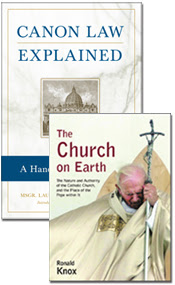 Original Price:
$31.99
Order the set at this link
for only $21.99.
Recent scandals have led many to claim that the Catholic Church is inherently flawed and that to save it, the Pope and bishops must yield decision-making authority to the laity.

With clarity and verve, Ronald Knox here shows that by the very terms of its commission from Christ, the Catholic Church cannot become a democracy.

Unlike Protestant congregations, the Church on earth is not just an assembly of Christians, pledged to keep intact a set of dogmatic truths and moral principles. It is directly God's handiwork, deliberately designed by Him as a hierarchical institution headed by the Pope.

Knox explains that although the Church is not inerrant in its policies, it is infallible in its doctrines; and it rightly serves as the living interpreter of Scripture and of its own teachings. He shows that despite the faults of its members (and even the faults of many of its leaders), the Church on earth has a higher claim on our loyalty than country, party, or even family.

Indeed, argues Knox, when Catholics obey the Church, they obey the voice of God.

These pages offer a bracing counterpoint to the recent popular rush to democracy in the Church.

They are essential reading for all who genuinely desire to understand the Church as Christ established it for us, and who seek to ensure that in our day the Church will remain faithful to the holy mission He entrusted to it.
Save 25%
when you order the set
HERE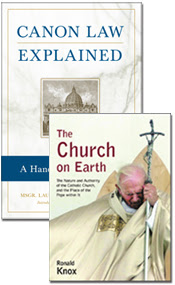 Order online above, or call
1-800-888-9344
www.SophiaInstitute.com
Save up to 40%
when you join Sophia's